By: Xappa
Hello, and welcome back to our blog for part 3 of our Women's History Month blog series! Today, I want to talk about none other than Yayoi Kusama.  At 88, Yayoi's art is distinct, vibrant,  and colorful.  It makes me happy every time I look at it. Her work is both complex and simple, creating landscapes and worlds within her installations, often using mirrors to exaggerate and distort the space.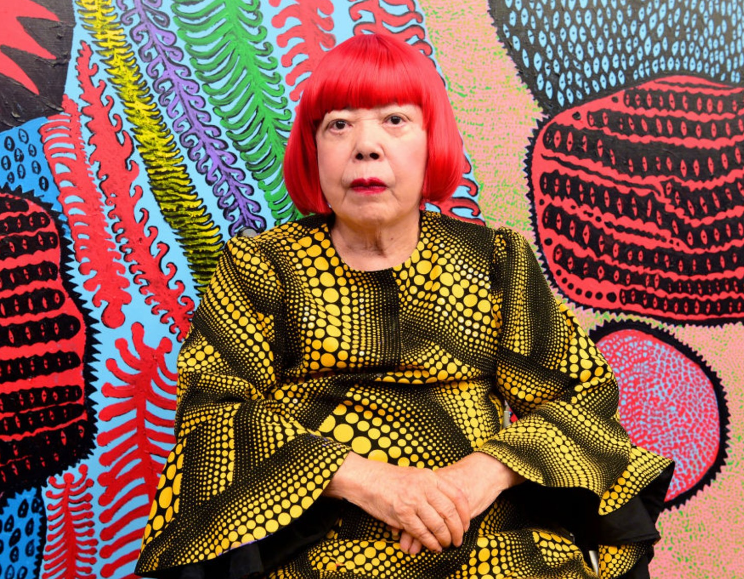 She started to paint using polka dots and nets as motifs around age ten, and this has been a recurring theme in her work ever since.  As a child, Kusama  experienced hallucinations in which she found herself seeing flashes of light, auras or dense fields of dots. Born in 1929, she was the youngest of four children in Matsumoto, Nagano Prefecture.  Kusama turned to painting as a means of depicting what she saw in her mind. Her mother was dismissive of Yayoi's creativity and often threw away her drawings.  "She once kicked my palette across the room," wrote Kusama in her 2002 autobiography, Infinity Net.  By the age of 13 Kusama was taking painting lessons despite the opposition from her family. In 1948, she entered the Kyoto Municipal School of Arts and Crafts. An early solo show in Matsumoto in 1952 attracted the notice of psychiatrist Shiho Nishimaru, who concluded Kusama was suffering from cenesthopathy—a disorder that induces abnormal physical sensations and a feeling of malaise.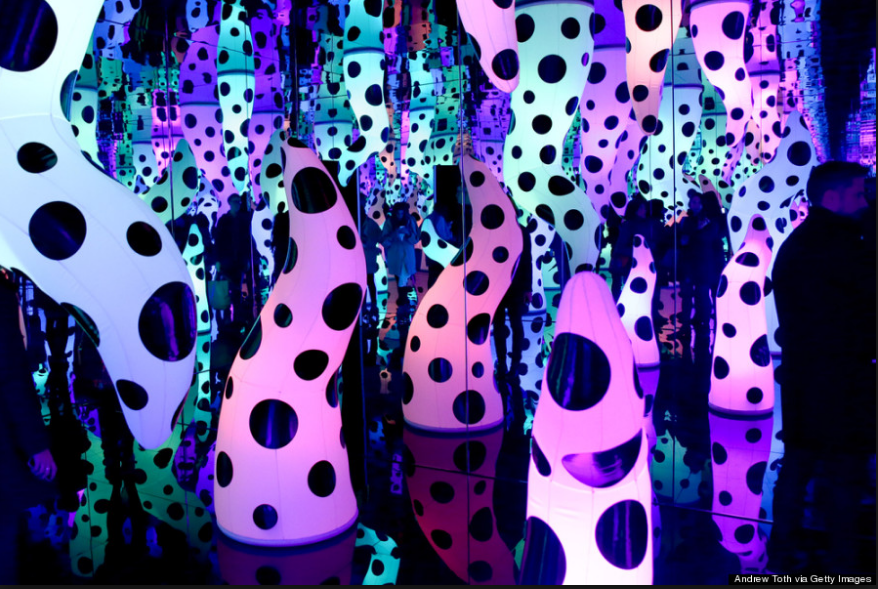 For Kusama, making art was a way to both escape the toxicity of her family and embrace the visual hallucinations that had become a part of her psyche. "There were some very dark, unhappy moments in my childhood, which art helped me heal considerably," she says. "Through art, I was also able to enter into normal society, but up until then I was haunted by suicidal impulses."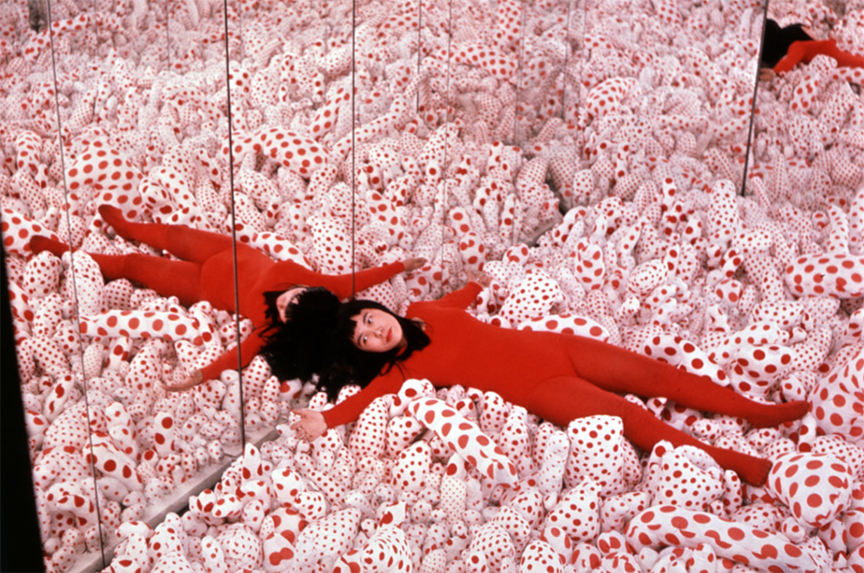 Kusama went to the United States in 1957 for her first American solo exhibition at the Zoë Dusanne Gallery in Seattle, Washington. The following year, Kusama moved to New York and took up residence in Greenwich Village. She quickly befriended some of the most important New York artists in the scene and worked tirelessly on her art. She obsessively worked on her Infinity Net paintings which featured a repetitive mesh of  patterns and shadowing to create depth and composition. These paintings grew and evolved into her more stylized polka dots. She also created soft sculptures with white fabric sewn into tubular protrusions and cloaked over objects. She directed experimental films and staged "naked happenings" body painting festivals, fashion shows and anti-war demonstrations. In 1968, the film "Kusama's Self-Obliteration"which Kusama produced and starred in, won a prize at the Fourth International Experimental Film Competition in Belgium and the Second Maryland Film Festival and the second prize at the Ann Arbor Film Festival. Her work has been exhibited all around Europe. She has published many novels, collaborated with fashion designers  and has won countless awards and accolades. She recently received the Order of Culture, one of Japan's highest honors, personally bestowed by Emperor Akihito in November of 2016. Her past work has been dismissed by Japan as scandalous and disgraceful or simply ignored. In that era, female artists were largely looked over for their male counterparts.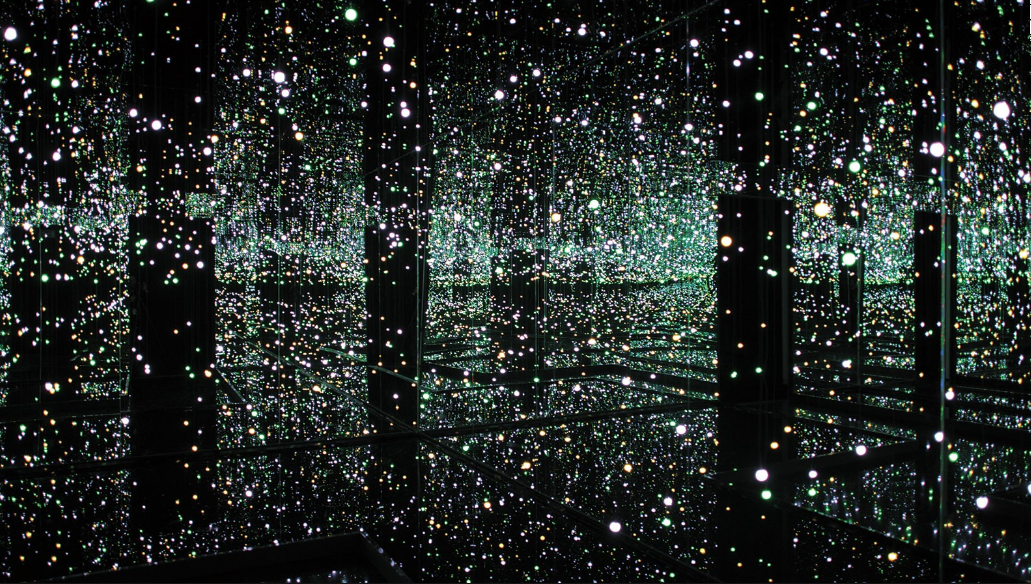 She returned to Japan in 1973. While continuing to produce and show art works, Kusama issued a number of novels and anthologies. Since 1977, when she voluntarily admitted herself to the psychiatric hospital where she has resided for the past four decades, she has tried to spend most of her time at her studio, in Shinjuku ward, Tokyo.  It lies a few minutes down the road from her living quarters.  Almost every day, she goes to her studio  to paint from 9 a.m. until sunset, often working for eight-hour stretches.
Her body of work continues to inspire and we can't help but be blown away by her drive to create well into her 80's. Kusama's work is a reminder to me that art can be a much needed release. When we get lost in our creativity, it is a kind of meditation and it's good for our minds, our bodies and our souls. My hat is off to this incredibly talented and infinitely interesting human being. She, and other artists that came before her have paved the way for all of us. For that, I will always be grateful.
If you'd like to know more about Kusama's work you can read here and here. Aaaand some more here as well as many more places on this vast thing we call the internet.
Till next time, my friends!
Your friend in crafting,
Xappa







Comments
comments