Add a little flair to your kids room this summer with some easy-to-make Hanging Moon & Stars decorations.
Download full pdf tutorial here for quick reference at home.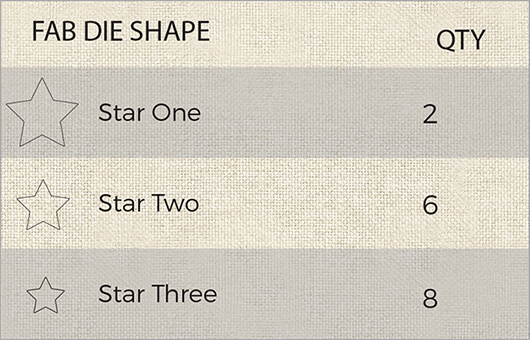 SUPPLIES
Die Cutting Machine
Fabric
A1063 Fab Dies
Iron
Fusible Web
Sewing Machine
Thread
Scissors
Small beads
Poly-Fil Stuffing
Embroidery Thread
Small hanging Ring
INSTRUCTIONS
1. Select and cut your appliqué fabrics. Refer to the chart above for fabric required for this project. Cut your fabric and fusible web to roughly the size of the die. Follow your machine instructions on die cutting or refer to our website for more information.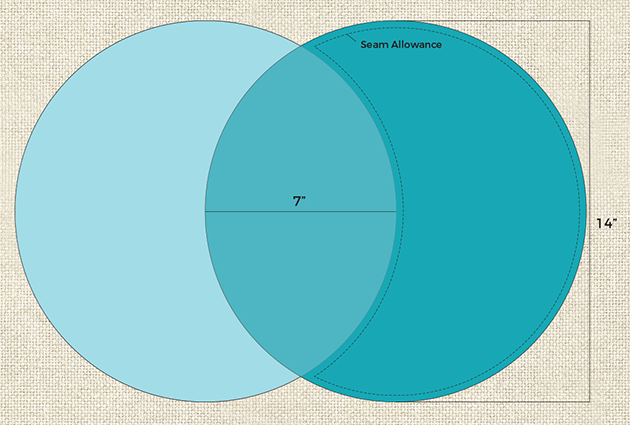 2. Select and cut your moon fabrics. Cut your two moon shapes to the dimensions shown in the pattern. The shape of the moon is entirely up to you. Be sure you add seam allowance because the moon can seem really thin after it is stuffed.
3. Create you moon and stars. Place two of the same size stars together, face sides out. Hand sew around the edges with a blanket stitch or use your machine. Leave one side of a point open so you can stuff your star. Stuff the star and hand sew the gap shut. Do this to all your stars making eight. Now take your two moon pieces with the face sides together and sew them together leaving a 2" gap. Turn it right side out and press it flat, making sure your gap is ironed neatly. Stuff your moon and hand sew the gap shut.
4. Attach the stars to the moon. Lay out your stars under your moon in vertical rows as you would like. Thread your hand needle with your embroidery thread to the length of one of these vertical rows. Knot one of your beads to the end of the thread. Next sew through the middle of your star knotting where your needle comes out the top. This is to keep it in place along your string. You can add more beads along your string by sliding them down the thread to the position you want, then threading it again and pulling the string tight, so that its looped around the bead. Once your row is threaded, sew and knot it to the bottom of your moon. Do this will all your rows.
5. Add your hanging ring and finish. Thread your needle again with a 15" length of string. Knot it to the top left side of your moon. Knot your ring to the middle of your thread and then knot the end of your string to the right top side of your moon to finish.
Save
Save







Comments
comments